ANPHA RUBBER CO., LTD has been found in 2003 by two members, with initial capital at 200,000 USD. Our headquater is located in Ho Chi Minh City, mainly operated in domestic business & export of natural rubber with grades as SVR3L, SVR10, SVR20, RSS3, SVRCV50 & SVRCV60 under Standard Vietnamese Rubber (TCVN) 3769-2004.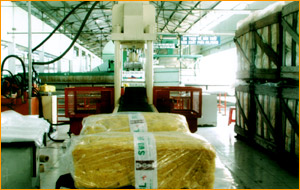 In past years, ANPHA RUBER CO., LTD has constantly grown in quantity, quality and became one of prestigious and well known suppliers in Viet Nam in rubber industry. Since 2005 to the present, we have exported to many countries as China (major market), Korea, Taiwan, Hong Kong, Malaysia, Indonesia, Spain, Croatia, Italy, Turkey, Slovakia, Portugal, Poland….
Over many years of working in rubber field, we set up good relationship with many natural rubber producers (Private Factory and Geruco, now changed to Viet Nam Rubber Group), so we are capable of buying rubber at lowest price and resell them at most competitive price with superior quality. In addition we also embrace whole rubber of a factory or purchase raw materials to be done outworks by factory on purpose of obtainning steady rubber source for export and local consumption.
Currently our company are aiming at promotion of export to America markets such as Argentina, Brazil, Peru, Mexico and especially USA.
We always have got best rubber sources with most competitive price to offer your esteemed company , so we are possibly regarded as a connected bridge between the producer and the user. Hope that you will not be in a devided mind in setting up the business with us and feel free to contact us if you need best quotation from us at any time.
Our target is to supply high quality cargo to local and oversea customers, ship on time with the slogan" Good Quality – Prestige – Good Service – Competitive Price".
We did expect to have long cooperation with all local and oversea customers who have the demand of rubber for production and trade.
| | |
| --- | --- |
| Today | 18 |
| Yesterday | 75 |
| Total | 353973 |